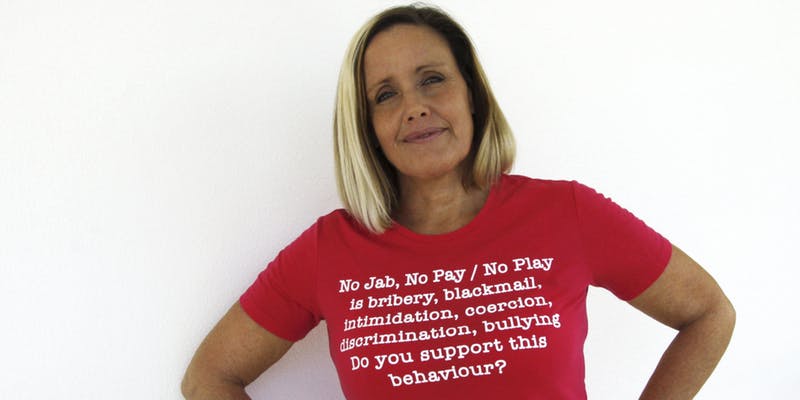 Hello Sunshine Coast!
This is a rare opportunity to meet and greet me and hear WHY I decided to head into politics and run for senate. Who and what is IMOP and why you should vote 1 Allona for senate. YOUR Voice for Health Choice.
* No Forced Medication * No Compulsory or Coerced Vaccination * No Fluoride in our Water.
What:
Talk including Q & A will go for 45 minutes.
Join us at CK Coffee Bar & Wholefoods, Brisbane Rd, Mooloolaba for a evening of lucky door prizes, raffles, networking and socialising.
Cost includes a selection of organic canapes and platters with vegan and vegetarian options, the bar will be open with organic beer and wine options and additional food purchasing available.
Some of the raffles and lucky door prizes kindly donated by supporters include –

2 hour Spiritual Kinesiology session 🧡 Value $200.
2x Rockabilly private dance lessons valued $100
10 x Freethought EMF clearing patches (for your device) valued $40 each
Beautiful hand-knitted, fully beaded 100% hand-dyed merino lace wrap made by moi. Estimated value is between $600 and $700.
Oligoscan – Infrared technology Heavy metal & mineral analysis test with comprehensive interpretation & treatment protocol valued at $150
Red Ginger Cabin in Ninderry a night's accomodation for two, incl bottle bubbly on arrival. (2 min from Spirit House Thai restaurant, 10 min From Eumundi)
Healing and nutrition consultation package (approx 2-2.5hours) & small basket of healthy goodies as an extra treat 💝
Bunnings gift voucher valued $50
COME, SUPPORT AND BE IN IT TO WIN IT!
Kids are welcome but will be the responsibility of the parents. The event will include some live music at the event and some dancing!! So please come and enjoy!
Vote 1 IMOP – Your Voice for Health Choice and your Future
When:
Fri., 10 May 2019
6:00 pm – 9:30 pm AEST
Where:
CK Coffee Bar & Wholefoods
17 Brisbane Road
Mooloolaba, QLD 4557
Tickets:
Please click here to reserve your spot and be in the running for lucky door prizes. 
If you can't make the event please:
SUBSCRIBE to our mailing list so we can keep you in touch.
DONATE this is a community, self-funded campaign – your cash and time donations are invaluable. Donations over $100 are tax deductible. You can donate to IMOP Australia, the Qld Branch specifically or choose to direct your donation to flyers or banners or even buy a t-shirt.
SIGN UP to the IMOParty – https://imoparty.com/#register
SHARE – tell your friends, have the talk – a lot of people are still not aware that our rights are being eroded. Start the conversation of why we deserve BETTER!
VOTE – on the day – vote 1 IMOP. We will be sharing how to vote cards soon. IT IS UP TO YOU to ensure you have a voice in the Senate that cares about the needs of you and your family.
Blessings and much love to all those that Vote and support IMOP